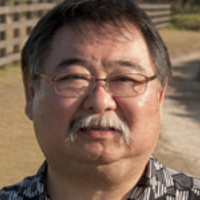 Poet Garrett Hongo
Tuesday, April 9, 2013 at 7:00 pm
Wendell Phillips Center (WPC), Room 140
1000-1070 W Stadium Dr, University of the Pacific, Stockton, CA 95204
Award-winning poet Garrett Hongo will read from his recent book, "Coral Road," "The River of Heaven," a finalist for the Pulitzer prize, and Volcano," which won the 2006 Oregon Book Award for Literary Nonfiction.
A fourth-generation Japanese American born in Hawai'i, Hongo is a poet, prose writer, anthologist, literary critic, editor, and Distinguished Professor of Arts and Sciences, and Professor of Creative Writing at University of Oregon.
This event is sponsored by Pacific Arts and Lectures and is part of the University's Asian/Pacific Islander Month celebration. It is free and open to the public.
Event Type

Sponsoring Department
Group

Hashtag

Subscribe