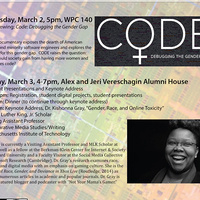 Gender, Race, and Technology: Gender Studies and Ethnic Studies Student Research Conference
Friday, March 3, 2017 at 4:00 pm to 7:00 pm
Alex and Jeri Vereschagin Alumni House
1022 Dave Brubeck Way, University of the Pacific, Stockton, CA 95204
The 2017 Gender Studies and Ethnic Studies Student Research Conference "Gender, Race, and Technology" will include panels of student presentations, a film showing and a keynote speaker on topics related to the conference theme.
Thursday, March 2, 5 p.m., WPC 140
Film Viewing: Code: Debugging the Gender Gap (2014)
CODE documentary exposes the dearth of American female and minority software engineers and explores the reasons for this gender gap. CODE raises the question: what would society gain from having more women and minorities code?
Friday, March 3, 4-7 p.m., Alex and Jeri Vereschagin Alumni House (For the Friday event, please RSVP to trobertscamps@pacific.edu by Wednesday, March 1.)
Student Presentations and Keynote Address
4-5:30 p.m.: Registration, student digital projects, student presentations
5:30 p.m.: Dinner (to continue through keynote address)
6 p.m.: Keynote Address, "Gender, Race, and Online Toxicity," with Dr. Kishonna Gray, Martin Luther King, Jr. Scholar, Visiting Assistant Professor of Comparative Media Studies/Writing at Massachusetts Institute of Technology
About Kishonna Gray:
Gray is a visiting assistant professor and MLK scholar at MIT, as well as a fellow at the Berkman-Klein Center for Internet & Society at Harvard University and a faculty visitor at the Social Media Collective at Microsoft Research (Cambridge). Gray's research examines race, gender and digital media with an emphasis on gaming culture. She is the author of Race, Gender, and Deviance in Xbox Live (Routledge, 2014) as well as numerous articles in academic and popular journals. She is also a featured blogger and podcaster with "Not Your Mama's Gamer."
The conference is sponsored by the Gender Studies Program and the Ethnic Studies Program, and co-sponsored by PALC Pacific Arts and Lecture Series, Assistant Provost for Diversity, Phi Beta Kappa, Film Studies, and the Center for Teaching and Learning.
This event is free and open to the public.
For special accommodations according to ADA specifications, please call 209.946.3221, or email ssd@pacific.edu.
For more information contact: Traci Roberts-Camps at trobertscamps@pacific.edu
Event Type

Sponsoring Department
Cost

Free and open to the public.

Group

Subscribe