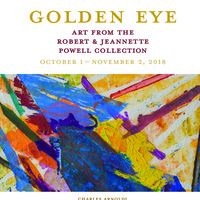 Golden Eye: Art from the Robert & Jeannette Powell Collection
Friday, November 2, 2018 at 9:00 am to 4:30 pm
Reynolds Art Gallery, Jeannette Powell Art Center
1071 W Mendocino Ave, Stockton, CA 95204
For the first time since this artwork graced their home, selections from the Robert and Jeannette Powell art collection will hang together at the Reynolds Gallery at University of the Pacific.
The exhibition includes 16 pieces by world-renowned artists representing significant art movements of the mid to late 20th century, which have never been exhibited together in Stockton. The show features Californians Charles Arnoldi, Richard Diebenkorn, Joe Draegert, Sam Francis, Gregory Kondos, Tom Lieber, Frank Lobdell, Nathan Oliveira, Ruth Rippon, Yoshio Taylor and Wayne Thiebaud, as well New Yorkers Jake Berthot and Jasper Johns.
Organized by University Curator Lisa Cooperman, the exhibition is a look at the very personal and much-loved collection from the Powell's estate, which was gifted to University of the Pacific in 2012.
Exhibition Dates: Oct. 1 – Nov. 2.
Opening Reception: Thursday, Oct. 4, 6 – 8 p.m. Please join us for refreshments and brief remarks by students in the Department of Art & Graphic Design.
Gallery hours: Monday – Friday, 9 a.m. – 4:30 pm.
The Powell Art Collection
The Powell collection is Californian in spirit and substance. This exhibition represents only a fraction of the large amount of work the Powells amassed during their lifetimes. Additional art was gifted to the Crocker Art Museum, San Francisco Museum of Modern Art and other institutions. Per Jeannette's instructions, their gift to Pacific was installed in public spaces on all three campuses and is seen by hundreds of people every day. It is an expression of personal taste; a collection they lived with, representing a love of energy, action and the human touch.
The paintings, prints and sculptures in the Powell Collection are considered contemporary, art made after 1970 when no single ideology or -ism held sway. Most of the artists themselves were direct contemporaries of the Powells and the work itself was completed during their lifetime. Not for them were stodgy old masters or bland pastoral scenes, rather the artists, most of whom were loosely affiliated with the Bay Area Figurative School, rejected the lingering, dominant trend of Abstract Expressionism favoring, overall, less drama and more light. Abstraction, figuration and landscapes exist happily side by side.
Johns and Berthot are the geographic exceptions to the Powells' collecting taste; both are New Yorkers. Diebenkorn – whose first teaching job in Southern Illinois led him to paper over his studio windows in despair of the bleak landscape before he returned to Berkeley –Lobdell, Oliveira, Thiebaud, Rippon, Taylor, Draegert, and Kondos represent the Bay Area and Central Valley. Arnoldi, Francis and Lieber make up the Los Angeles contingent. These artists are also exceptional educators, affiliated with the San Francisco Art Institute (formerly the California School of Fine Arts), San Jose State, Stanford University, California College of Art (formerly California College of Arts and Crafts), Sacramento State and UC Davis. They are all exhibited, published and written about as well as held in major collections around the world.
About Robert and Jeannette Powell
Neither Robert or Jeannette Powell, Bay Area natives, received college degrees but they believed in the value of higher education. Through vision and grit, Bob became a successful Sacramento developer and Jeannette a professional interior designer. Both were gracious though shy philanthropists. Introduced to then President of Pacific, Donald DeRosa and his wife Karen by mutual friend Ed Westgate, their enthusiasm for the University grew as their friendships deepened.
For over 20 years, the Powells generously supported Pacific. Both served as regents of the university, gave the lead gift to build and name the Jeannette Powell Art Center, and endowed the Powell Scholars Program, Pacific's premier academic merit program. Their crowning estate gift will benefit deserving students, faculty, and staff through endowments well into the future.
It was the Powells' wish to support both deserving students at Pacific and the community as a whole by sharing their success. Their art collection is a manifestation of this success; this exhibition offers a new audience the immense pleasure of looking, the golden reward that comes in at the eye.
Follow us on Facebook, Instagram and visit us at http://go.pacific.edu/ReynoldsGallery.
CONTACT: Department of Art & Graphic Design (209) 946-2241, reynoldsgallery@pacific.edu
Event Type

Sponsoring Department

Audience

Website
Cost

Free and open to the public

Group

Department

Hashtag

Subscribe