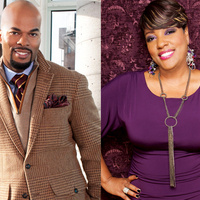 Gospelfest 2013: Featuring JJ Hairston & Youthful Praise and Anita Wilson
Friday, February 15, 2013 at 7:00 pm
Progressive Community Church 2820 S B St.
Grammy-nominated artist Anita Wilson, along with J.J. Hairston and Youthful Praise will headline Gospelfest 2013: Reach Out and Praise. The concert is part of the annual Black History Month celebration at University of the Pacific
The event will be held Friday, Feb. 15 at Progressive Community Church, 2820 South B Street in Stockton. Gospelfest 2013: Reach Out and Praise starts at 7 p.m. Tickets are $10 and can be purchased online at go.Pacific.edu/Gospelfest2013 or at the Box Office on Pacific's campus. A bus will provide transportation from in front of Burns Tower on the Stockton campus to the Progressive Community Church.
"We are excited to bring this year's concert to Stockton and hope to inspire and encourage our community. We are thankful to Progressive Community Church in South Stockton for once again partnering with us to host this event at their facility," said Randall Ogans, the event's lead organizer and co-chair of the Black History Month planning committee. "Their performances are sure to honor the true intent of gospel music, which is to boldly proclaim a message of hope that renews our strength to persevere together, even in the midst of these hard economic times."
This will be Wilson's first appearance at Gospelfest. She is a three-time Stellar Award nominee and comes from the rich musical heritage known as the Chicago sound. She is best known for her work as a worship leader and featured vocalist in the award-winning ensemble Donald Lawrence & Company. Her debut solo project, "Worship Soul," was recorded live at the historic Fellowship Missionary Baptist Church in Chicago. The album's lead single is featured on "WOW Gospel 2012," a collection of 30 of 2011's most popular songs. Along with acclaimed songwriter/producer Rick Robinson, Anita co-produced an album that contains songs that range from soulful to fiery to meditative. Last week, "Worship Soul" received a Grammy nomination for Best Gospel Album.
For the past 10 years, J.J. Hairston and Youthful Praise have been ministering to people around the country with their songs centered on the themes of praise and worship. Their sixth album "After This (Light Records/eOne)" takes the choir in a slightly different direction by singing songs of encouragement in the midst of the difficult times. The group's mission is to spread a message of love, hope and victory through faith in God. "After This" hit number one on the Billboard gospel charts earlier this spring.
Originally from Bridgeport, Connecticut, Youthful Praise has performed with gospel greats such as Pastor Shirley Caesar, Hezekiah Walker and Dorinda Clark Cole. Their debut album, "Awesome God," earned them two Stellar Award nominations, a Soul Train Award nomination and the Gospel Music Workshop of America (GMWA) Excellence Award for Choir of the Year.
Gospelfest started in 2000 as part of the University's celebration of African-American history and heritage. Over the years, the concert has featured a number of local and nationally-known artists, from Pacific student-band Tipping Point to Marvin Sapp, winner of gospel music's most prestigious award, the Dove, and whose single "Never Would Have Made It" became the longest running No. 1 gospel single in Billboard's history at 42 weeks.
The concert is one of many events planned throughout February for Pacific's celebration of Black History Month. Other events include a poetry reading, round-table discussions and guest lecturers. This year's keynote speaker is Grammy Award-winning singer Anthony Hamilton, who will lecture and perform on Thursday, Feb. 7 at the Bob Hope Theatre, 242 E. Main St., in downtown Stockton. An additional speaker, NBA legend Kareem Abdul-Jabbar, will speak on Feb. 26, 7 p.m. in the Faye Spanos Concert Hall.
For more information about Pacific's Black History Month Celebration, visit go.pacific.edu/BlackHistory.
Event Type

Tags
Cost

$10

Group

Hashtag

Subscribe