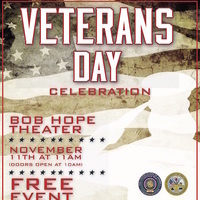 Inaugural Joint Stockton Veterans Day Ceremony
Saturday, November 11, 2017 at 11:00 am to 12:00 pm
Bob Hope Theatre
242 E. Main St., Stockton, California 95202
The United Veterans Council of Stockton, which is composed of all Stockton Military and Veteran Organizations, including Pacific`s Veteran Center is extremely proud to announce their Inaugural Joint Stockton Veterans Day ceremony.
Veterans Day is an opportunity to recognize and honor those who have served in the United States Armed Forces. While we will appreciate all of our veterans, for this upcoming Veterans Day, we will pay special honor to our female Veterans and those who have served Post 9/11.
This event is free and open to the public and will be held on Saturday, Nov. 11 from 11 a.m. to noon at the Bob Hope Theater in downtown Stockton.
For information on this upcoming event or to inquire about carpooling or transportation, please contact Chad Reed @ 209.932.3237
Event Type

Sponsoring Department
Cost

Free and open to the public

Group

Subscribe