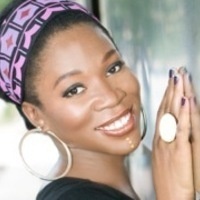 Lecture and Performance by India.Arie
Saturday, February 18, 2012 at 7:00 pm
Bob Hope Theatre 242 E. Main St., Stockton, CA 95202
India.Arie, a two-time Grammy award winning singer, songwriter and producer, will give a lecture and performance as the keynote speaker for University of the Pacific's Black History Month celebration. The event will open with a performance by Sugar Water Purple, a local Neo Soul band made up of mostly Pacific students.
With songs such as "Beautiful," "I Am Not My Hair," "Beautiful Flower" and "Strength, Courage and Wisdom," the Neo Soul/R&B singer is known for uplifting music and empowering women and girls. Among the many messages that resonate in her songs, she encourages women and girls to focus on inner beauty instead of societal images of female beauty.
India is perhaps best known for her lyrics from her first single "Video," which included the lines: "I ain't built like a supermodel/But I've learned to love myself unconditionally." Former talk show host Oprah Winfrey has cited her work and said "India.Arie is known for writing and performing music that really stimulates and revives the soul."
Since her multi-platinum debut album "Acoustic Soul" in 2001, Indie.Arie has gone on to release "Voyage to India," "Testimony: Vol. 1, Love & Relationship" and "Testimony: Vol. 2, Love & Politics (2009)," her fourth and most recent studio album.
Throughout her career, she has sold more than eight million albums and garnered praise from critics and artists alike throughout the music industry, including Elton John and Stevie Wonder. Her numerous accolades include 17 Grammy nominations and four NAACP Image Awards.

In addition to being an artist, India.Arie is also a human rights activist who has traveled around the world advocating on behalf of children for health-related causes. As a U.S. ambassador for UNICEF, India.Arie made frequent trips to Africa and helped bring more attention and support to the AIDS crisis on the continent.
*Student tickets are $10 and can be purchased at the DUC front desk with Pacific cash. Shuttle service to the event will be provided. The shuttle service will begin at 6 p.m. at Burns Tower and run throughout the evening.
Public tickets can be purchased from the link below.
Event Type

Website
Cost

$10 students, $25 + for public

Group

Hashtag

Subscribe