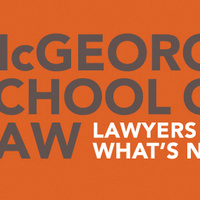 JD Part-Time Orientation
Friday, August 11, 2017
Pacific McGeorge School of Law
3200 Fifth Ave., Sacramento, CA
View complete JD Part-Time Orientation PDF here.
Tuesday, August 8, 2017

5:00 to 5:30 p.m. New Student Check In | Admissions Breezeway
Receive your class schedule and section assignment, welcome materials, parking pass, and more.

5:30 to 6:30 p.m. Dean's Welcome and Introduction to the Legal Profession | Classroom A
Hear welcome remarks from Dean Michael Hunter Schwartz. Explore with Associate Dean for Academic Affairs Michael Colatrella what it means to be a lawyer and how to develop your professional identity.

6:30 to 7:00 p.m. Administrative Nuts & Bolts | Classroom A
Meet key staff and administrators, receive your Student Handbook, and learn about your Student Health Insurance, Counseling and Psychological Services (CAPS), student government (SBA), student organizations (RSOs), and more.
7:15 to 8:00 p.m. Arc of Your First Semester & Learning Styles | Classroom A Learn what to expect from the árst semester of law school – homework, class sessions, studying, and exams. Students also identify their individual learning styles and how to use them.
8:00 to 8:15 p.m. #experiencemcgeorge | Classroom A Discover the vibrant McGeorge community.
8:15 to 9:00 p.m. Gunther's Ice Cream Social | McGeorge House Mix and mingle with your new colleagues while enjoying a sweet treat from Gunther's Ice Cream.
Wednesday, August 9, 2017
Optional Campus Tours with Student Ambassadors | Tours depart at 3:45, 4:15, and 4:30 p.m.
5:00 to 5:45 p.m. Financial Aid & Debt Management (Dinner Provided) | Classroom A Understand the ánancial aid process including federal student loans, scholarships, loan forgiveness and your rights and responsibilities as a student loan borrower. We also discuss the steps of creating a budget, being aware of your spending habits, and protecting your credit.
5:45 to 6:30 p.m. Title IX Training | Classroom A Training on sexual assault and harassment prevention.
6:45 to 7:45 p.m. Expert Learning | Classroom A Learn the self-regulated learning skills characteristic of law students who successfully manage their law school workloads, enjoy the law school experience, and succeed in law school.
7:45 to 8:30 p.m. Time Management | Classroom A Time management is a foundational skill for professionals. This session will explore various time management strategies so you can identify what works for you.
8:40 to 9:30 p.m. What I Wish I Had Known During First Year: Student & Alumni Panel | Classroom A A conversation with upper-division students and alumni about how to successfully navigate your árst year of law school.
Thursday, August 10, 2017
4:00 to 6:00 p.m. Student Involvement Fair (Dinner provided starting at 5:00 p.m.) | Quad From the Latino/a Law Student Association, to the Environmental Law Society, to the Yoga Club – with more than 40 clubs, there is something for everyone. Get information about how to join clubs, and learn about upcoming events and ways 1L students can get involved in the McGeorge community.
6:15 to 7:15 p.m. Balancing Life & Law: Stress Management | Classroom A This interactive session introduces key habits to developing a sustainable, balanced approach to law school and your career. Simple tips and exercises will be introduced to help you navigate the inherent stressors of legal education.
7:30 to 9:30 p.m. Torts Analytical Skills: Critical Case Reading & How to Brief a Case | Classroom A Understand the purpose of reading cases in law school, learn reading strategies speciác to reading cases, gain strong comprehension skills, and increase your reading efáciency. Learn how to brief a case and how to use your case brief to prepare for and participate in class, outline, and study for exams.
Friday, August 11, 2017
4:00 to 5:00 p.m. Box Meal in Classroom A (Dinner Provided) | Classroom A
5:00 to 6:45 p.m. Torts Class: Using Your Case Brief | Classroom A Use the Torts case brief you wrote for homework in a classroom setting with your Torts professor – testing your new skills of critical reading and case brieáng.
7:00 to 9:00 p.m. Oath of Professionalism & Pinning Ceremony | Lecture Hall & Classrooms C/D/E Dessert Reception with the Faculty | Quad Join Dean Schwartz, your SBA President, the Alumni Association, and the Faculty for a special welcome, including taking the McGeorge Oath of Professionalism and participating in the pinning ceremony. Professional attire is recommended (please no jeans, shorts, or âip-âops; suits are not required). Family is welcome. This event will be live-streamed into Classrooms C, D, and E for family. This event will be immediately followed by a reception on the Quad.