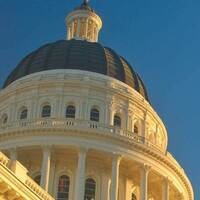 Journalism in the Era of Fake News
Thursday, January 11 at 5:30 pm to 7:30 pm
Sterling Hotel 1300 H Street, Sacramento, CA, 95814
The Mike Belote Capital Endowed Lecture presents a dynamic discussion featuring three influential journalists discussing the role of journalism today. The discussion will be followed by a hosted reception.

Speakers:
Jonathan Weisman, deputy Washington editor for the New York Times. In his 25-year journalism career, Weisman has covered politics and economic policy for the Times, the Wall Street Journal, the Washington Post, USA Today, and the Baltimore Sun, among other publications. He is the author of (((Semitism))): Being Jewish in America in the Age of Trump, and No. 4 Imperial Lane.

John Myers is Sacramento bureau chief for the Los Angeles Times. He has spent more than 20 years in radio and television news, winning awards for his coverage of California policy and politics. He served as the Sacramento bureau chief for KQED Public Radio's statewide program, The California Report, and currently hosts the California Politics Podcast. He also served as moderator of the 2010 and 2014 gubernatorial debates.

Joe Mathews is a California columnist and editor for Zócalo Public Square. His syndicated Connecting California column appears in 30 media outlets. He has been a reporter the Los Angeles Times, The Wall Street Journal, and the Baltimore Sun. He is the author of The People's Machine: Arnold Schwarzenegger and the Rise of Blockbuster Democracy and co-author of California Crackup: How Reform Broke the Golden State and How We Can Fix It.
Sponsoring Department

Tags
Department

Subscribe