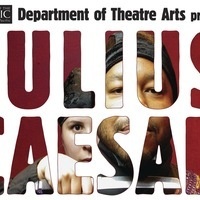 Julius Caesar by William Shakespeare
Saturday, November 17, 2012 at 8:00 pm to 11:00 pm
The Long Theatre
1041 Dave Brubeck Way, Stockton, CA 95204
Pacific Theatre Arts Department, known for their wide variety of play offerings, presents William Shakespeare's "Julius Caesar."
The play: Caesar, the beloved ruler of Rome, gets murdered in public by conspirators led by the ambitious Caius Cassius and her sister-in-law Marcus Brutus. As a result, Mark Antony, who viewed Caesar as a noble friend and father, seeks vengeance and justice in the murder.
Director Gary Armagnac has cast female actresses to play the roles of Cassius and Brutus, which are originally written for male actors. He cast professional actor Michael Wayne Rice in the title role, to set the bar high for the primarily student cast.
After 16 years of directing experience at the Tony Award® winning Utah Shakespearean Festival, Professor Gary Armagnac is delighted to finally direct Julius Caesar at Pacific.
"Julius Caesar is, and always has been, one of my favorite plays. I've wanted to direct it for quite a while and I'm very excited about the opportunity to work on it here at Pacific. I'm drawn to the play by a number of things: the characters, who are so contemporary-seeming; the timeless political elements. I invited Mike Rice, whose work has been seen recently at Livermore Shakespeare Festival and other Bay Area companies, so that the students are challenged to commit fully to these characters. He'll anchor the cast – I've already seen their work develop in rehearsal. And it's an exciting story, especially for an election year."
Professor Cathie McClellan has been collecting colorful sari fabrics to use in the production. Characters will color the stage from left to right with their transparent robes along with a triangle symbol on their chest. "The triangle symbolizes the three former rulers and, despite the bloody situation, they all still wear the symbol," says McClellan.
Senior Tricia Vang, will play the role of Caius Cassius. "I haven't had the opportunity to play an 'evil' character onstage, and it's definitely an entertaining challenge. I am really excited and honored to play this role, and it will be interesting to see the many things this character can do as a female character rather than a male character."
Public performances will be held in the Long Theatre on November 9, 10, 15, 16, 17 at 8:00 pm with an additional matinee performance at 2pm on the 17th. A special discount performance for high school and community college students plays on Wednesday November 14th.
Tickets available at the Pacific Box Office at 209.946.2474 or online at go.pacific.edu/tickets. For more information regarding tickets and performances, contact Derrick Stanley at 209.946.2116.
Event Type

Sponsoring Department

Website
Cost

Department

Hashtag

Subscribe