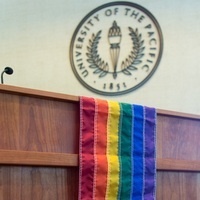 Lavender Graduation
Wednesday, May 10, 2017 at 3:00 pm to 4:30 pm
Alex and Jeri Vereschagin Alumni House
1022 Dave Brubeck Way, University of the Pacific, Stockton, CA 95204
Lavender Graduation is an annual graduation ceremony that recognizes graduating undergraduate and graduate students who identify as members of the LGBTQIA+ community as well as allies of the LGBTQIA+ community.
The ceremony will include a keynote speech by Pacific alumna Amber Luna and the presentation of certificates and rainbow tassels to the graduates. Family and friends are encouraged to attend.
Light refreshments will begin at 3 p.m. and the ceremony will begin at 3:30 p.m.
The deadline to sign up to be recognized as a graduate during the ceremony is Friday, April 28. Sign ups are located here: http://goo.gl/forms/E7ZBMpebJF
Event Type

Sponsoring Department
Department

Subscribe