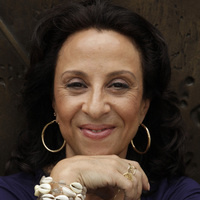 "Frontline: Latinos & Immigration from a Woman's Perspective" with Maria Hinojosa
Tuesday, March 8, 2016 at 7:00 pm to 8:00 pm
Don & Karen DeRosa University Center, Ballroom
901 Presidents Dr, Stockton, CA 95211
Award-winning investigative journalist Maria Hinojosa will be speaking on "Latinos and Immigration from the Women's Perspective."
Hinojosa is an award-winning trailblazer in news and investigative journalism with more than 25 years reporting on critical issues and focusing on the changing cultural and political landscape in America and abroad. She has received the highest levels of recognition in journalism, including: four Emmys; the 2012 John Chancellor Award for Excellence in Journalism; the Robert F. Kennedy Award for Reporting on the Disadvantaged; the Studs Terkel Community Media Award; and the Edward R. Murrow Award from the Overseas Press Club for best documentary for "Child Brides: Stolen Lives," among other awards.
In April 2010, Hinojosa took her mission of reporting on stories ignored or overlooked by mainstream media to another level by creating the Futuro Media Group, a nonprofit multimedia production company based in Harlem, with the mission of giving voice to the social and civic justice issues facing a more diverse America. In addition to producing "Latino USA," Futuro Media is also developing the public television series "America by the Numbers with Maria Hinojosa."
"America by the Numbers" will be the first national programming dedicated to documenting and demystifying the dramatic demographic changes that are occurring in the U.S. and examining the new American mainstream – the growing numbers of Asians, Latinos, African Americans, mixed race, immigrants, women, youth and LGBTs who are increasingly determining the outcomes of elections and influencing arts, culture and commerce. Futuro Media is also committed to training the next generation of journalists to become reporters, filmmakers and multimedia producers, and using its media products to expand public space, staging civic engagement events to further democracy and enlarge the national conversation about policy and priorities.