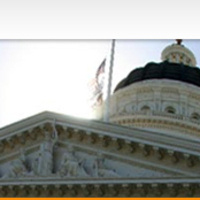 Lobbying 101: Capitol Seminars
Thursday, February 1 at 8:30 am to 1:30 pm
Pacific McGeorge School of Law, Classroom B
3200 Fifth Ave., Sacramento, CA
Lobbying 101: The Legislative Process & Legislative Advocacy from Capitol Seminars - Professional Development in Governmental Advocacy..
Register here. for Lobbying 101. The cost is $275 for Lobbying 101 or 201, or $500 for the pair of seminars. Register for both seminars here.
In this introductory course, Capitol Seminars founder Ray LeBov draws on his 41 years of experience in working with the California Legislature and regulatory agencies to guide you through the legislative process — both the "civics book" version and the real-world version, with all its twists and turns. In the second half of the seminar, he uses an interactive exercise to introduce you to the basics and best practices of effective advocacy.
The Legislative Process:
FPPC registration and disclosure requirements
Lobbying ethics
"How a bill becomes a law" / basics of the legislative process (including the "civics book" version as well as additional insights regarding exceptions that illustrate how the process "really works")
The critical importance of the legislative calendar
Key legislative publications, documents and materials: What they contain, which ones are the most important and how to use them
Overview of Budget Advocacy (covered in depth in Lobbying 201)
Legislative rules, exceptions and waivers
How to read a bill
Legislative committees: Their role, how they function and how to work with them
(including the respective roles of committee and minority staff)
Do's and don'ts of testifying; how to write an effective letter
Legislative Counsel Bureau and how to access it
Lobbying Strategies and Best Practices:
Rules for effective advocacy
Attributes of a successful lobbyist
Advice from senior legislative staff
How to choose the right author for your
sponsored bill
The most common mistakes lobbyists make
Lobbying by nonprofits
The lobbyist / client relationship and respective roles 
in the capitol

and the district
Interactive participation is encouraged, and you'll take home comprehensive, valuable resource materials that reinforce the course content.
Sponsoring Department

Website
Cost

$275 for Lobbying 101 or 201, or $500 for the pair of seminars.

Department

Subscribe