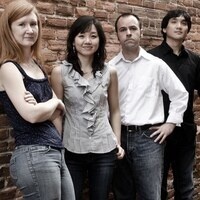 Master Class with enhakē Quartet
Sunday, November 11, 2018 at 6:30 pm to 8:30 pm
Recital Hall
3515 Pacific Circle, Stockton, CA 95211
The master class will follow the concert which will take place at 2:30 pm at Faye Spanos Concert Hall.
All interested are invited to this free master class with expert instruction from enhakē Quartet members: Wonkak Kim, clarinet; M. Brent Williams, violin; Katherine Decker, cello; and Eun-Hee Park, piano.
Groups/works presented during the class are by Igor Stravinsky, Madeleine Dring, and François Devienne.
Event Type

Sponsoring Department

Audience
Cost

Free

Department

Hashtag

Subscribe