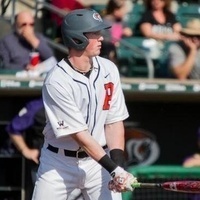 Men's Baseball vs BYU
Saturday, April 8, 2017 at 1:00 pm to 4:00 pm
Klein Family Field
Klein Family Field, Larry Heller Drive, University of the Pacific, Stockton, CA 95204
The Pacific baseball team welcomes BYU to Klein Family Field for a three-game West Coast Conference series opening Thursday at 3 p.m. Impending weather prompted the two teams to move Thursday's first pitch up to 3 p.m.
The Tigers (12-15 overall) are coming off a 14-8 win over Washington State on Monday. Pacific hit 10-for-17 in the game with two outs, bringing in nine runs with two down in an inning. The Tigers were also 2-for-22 with runners on base, 9-for-18 with runners in scoring position, and 10-for-17 with two outs. James Free was 3-for-4 with runners in scoring position on the day.
Pacific is 7-5 this season when scoring first, and 11-4 in the friendly confines of Klein Family Field. The Tigers are 2-7 in WCC action this season.
The Cougars are 14-12 overall and 4-2 in WCC play.
The Tigers will send RHP Ryan Shreve to the mound in game one. Shreve is 1-2 on the year with a 4.56 ERA. He will face BYU RHP Maverik Buffo, who enters the series with a 3-3 record and a 5.95 ERA.
In game two, on Friday at 6 p.m., Pacific RHP Will Lydon takes the hill. Lydon is 3-2 this season with a 4.87 ERA. BYU will counter with RHP Brady Corless, who owns a 3-0 record and a 4.03 ERA.
The finale will be Saturday at 1 p.m., as a pair of southpaws face off. Pacific's Ricky Reynoso is 3-3 on the season with a 5.17 ERA, while BYU LHP Hayden Rogers sports a 2-1 record and a 2.23 ERA.
All three games will air live on TheW.tv via Campus Insiders. Check back to PacificTigers.com for any weather related schedule changes.
Event Type

Sponsoring Department

Website
Cost

$8 adults, $6 seniors, $4 children 5-12, $3 faculty and staff. Packages and group pricing also available.

Subscribe