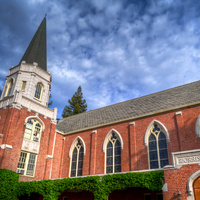 Morris Chapel 75th Anniversary Celebration Service
Friday, April 21, 2017 at 4:00 pm to 5:30 pm
Morris Chapel
Help celebrate the 75th anniversary of this iconic place that has played a role in the lives of so many from the Pacific and the greater Stockton community.
Join President Pamela Eibeck and honored guest speakers at this celebratory service in Morris Chapel. We will gather and commemorate the events from the past and present as we joyfully look with great expectation toward future opportunities of religious life and community programs in the beautiful chapel at University of the Pacific.
A dinner with a historical presentation will take place in the DeRosa University Center following the service.
All are welcome to attend. For more information or to RSVP visit:
Event Type

Sponsoring Department

Website
Subscribe