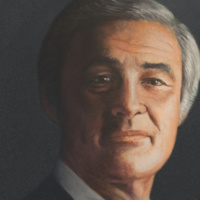 "Moscone: A Legacy of Change"
Wednesday, November 28, 2018 at 3:00 pm to 4:00 pm
Television broadcast
This documentary film chronicles the life story of Pacific alumnus George Moscone `53, the late California State Senator and Mayor of San Francisco. The film was produced by University of the Pacific Professor of Communication Teresa Bergman with research and production assistance by Pacific undergraduate and graduate students. It was directed by Nat Katzman and narrated by Peter Coyote.
The documentary will be aired on KVIE, KRCB and KQED on the following dates and times:
Nov. 5, 9 p.m. - KVIE (Sacramento-Stockton-Modesto)

Nov. 5, 9 p.m. - KRCB (Rohnert Park/Santa Rosa)

Nov. 23, 8 p.m. - KQED (San Francisco Bay Area)

Nov. 28, 3 p.m. - KQED Plus (San Francisco Bay Area)
The film is also available to watch simply by downloading the free PBS Video app on your smart TV, tablet or phone. You can also go to pbs.org/video. Once on the app or online, search for MOSCONE and enjoy!
About George Moscone
Moscone, a 1953 Pacific graduate, was a leader who strongly advocated for the rights and protections for all people, regardless of color, gender, race, nationality, sexual orientation or age. The progressiveness of his San Francisco mayoral campaign gave the city its contemporary identity.
As a lawmaker and mayor, Moscone authored legislation to create the state's school lunch program, shepherded the first gay rights legislation in the country, and appointed Harvey Milk, the first openly gay man, to the San Francisco Board of Permit Appeals, a first for a major U.S. city. Moscone was instrumental in keeping the San Francisco Giants in the city when it appeared the team might move to Canada, and for overseeing the integration of women and racial and ethnic minorities into the San Francisco Police and Fire departments.

His accomplishments continue to positively affect Californians and California politics today despite the circumstances of his untimely death. Moscone was assassinated Nov. 28, 1978, in his City Hall office by former San Francisco Supervisor Dan White, along with Harvey Milk. Learn more>
Event Type

Sponsoring Department

Audience

Website
Subscribe