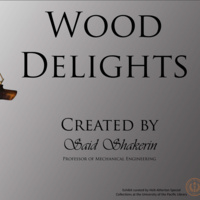 Art Exhibit: Wood Delights.
Sunday, March 11, 2018
William Knox Holt Memorial Library, Lobby
Corner of Dave Brubeck Way and Atchley Way
The exhibit is located in the Stockton Campus Library lobby. This exhibit shows wood art created by Professor Said Shakerin of the Engineering and Computer Science Department. Stop by the library to view the inherent beauty in wood, and the specific visual delights of these pieces.
Event Type

Sponsoring Department

Tags
Department

Subscribe