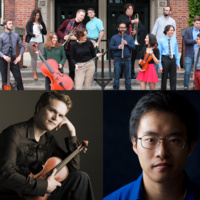 New Music Festival 2019
Wednesday, January 30 at 7:30 pm
Faye Spanos Concert Hall
3511 Pacific Ave, Stockton, CA 95204
Contemporary music is happening at Pacific!
The Conservatory of Music is proud to host the inaugural New Music Festival organized and curated by 28/78 New Music Ensemble at Pacific. The festival will feature four days of workshops, performances, and musical collaborations between students, faculty, and guest artists. All events are open to public and free to attend.
Jan. 25, 7:30 pm
Pacific/Hail at Faye Spanos Concert Hall: Featuring diverse works of music by Pacific faculty, alumni, and students.
Jan. 27, 2:30 pm
Augmented Percussion Concert at Faye Spanos Concert Hall: Featuring contemporary works for percussion; an intersection of electronic and acoustic music; curated by Pacific's percussion instructor Michael Downing.
Jan. 30, 7:30 pm
That's So Metal at Faye Spanos Concert Hall: A genre-hopping concert of all-metal music featuring Pacific Heavy Ensemble (earplugs recommended)
Feb. 2, 7:30 pm
Adventures at DeRosa Student Center: An eclectic mix of contemporary music featuring 28/78 New Music Ensemble; Grammy Award-winner Mads Tolling; Yoshiaki Onishi, Pacific alumnus and 2018 Guggenheim Fellow
More at www.2878music.com.
Event Type

Sponsoring Department

Audience

Website
Cost

Free

Department

Hashtag

Subscribe