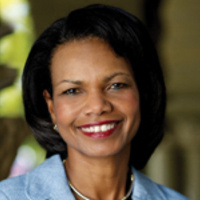 "No Ordinary Woman" with Condoleezza Rice
Thursday, March 21, 2013 at 9:00 am
Alex G. Spanos Center
1178 Larry Heller Drive, Stockton, CA 95211
Former US Secretary of State Condoleezza Rice will deliver the keynote address for University of the Pacific's forum on Advancing Women's Leadership, "No Ordinary Woman."
The forum on Advancing Women's Leadership brings together diverse and esteemed thought leaders from the local and national stages to inspire participants, especially young women, to make a lasting, positive and powerful impact in the communities where they live and work.
8:00 am Doors open
Exhibitor Booths Open on Concourse
9:00 am Main Program Begins
Christy Haubegger – Founder, Latina Magazine
Moderated Panel Discussion – Dr. Sacha Joseph-Mathews, Moderator
Keynote Speaker – Dr. Condoleezza Rice
Fireside Chat – President Pamela Eibeck & Condoleezza Rice
Presentation of ATHENA International Award
12:00 pm Main Program Concludes
Proceeds from ticket sales will support the Boys & Girls Clubs of Stockton and Pacific's Women's Resource Center.
Tickets for this event are sold out.
Event Type
Cost

Tickets for this event are sold out

Hashtag

Subscribe