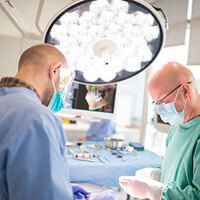 Oral Surgery for General Practitioners: A Hands-On Workshop
Saturday, October 27, 2018 at 8:30 am to 5:00 pm
Arthur A. Dugoni School of Dentistry
155 Fifth Street, San Francisco, CA 94103
This course is full to capacity but we are accepting waitlist registrations online.
In this comprehensive, hands-on workshop for general dentists, participants will learn basic to advanced concepts and skills in oral surgery. Starting with patient evaluation, the course will cover medical conditions that impact surgery, computer imaging, local anesthesia, surgical anatomy, surgical techniques and instrumentation. You will learn the latest techniques for flaps and sutures, third molar extraction and alternative techniques in extraction of impacted third molars. Clinical risks and complications of these procedures will be examined with an emphasis on how to prevent problems. Participants will have the opportunity to apply newly learned concepts as they practice surgical extraction techniques, flaps and suturing on pig jaws.
You Will Learn
Comprehensive approach for extraction of teeth, including patient evaluation, local anesthesia, surgical anatomy, flaps and instrumentation
Surgical techniques for effective surgical extraction, including third molar surgery, flaps and sutures and alternatives for impacted molars
Hands-on training on all techniques
Who Should Attend
This program is designed for general dentists interested in oral surgery concepts and skills.
Early Bird Tuition: $495 (for registrations received by Sept. 27)
Regular Tuition: $545
Program: 8:30 am – 5:00 pm
Check-in: 8:00 am
Location: Arthur A. Dugoni School of Dentistry, 155 Fifth Street, SF
Credits: This activity is designated for 7.5 units of continuing education credit.
Program is limited to 30 participants; includes lunch and coffee/tea service in the morning.
Faculty
Len Tolstunov, DDS, DMS, is a board-certified oral and maxillofacial surgeon and a diplomate of the American Board of the Oral and Maxillofacial Surgery, the American Board of Oral Implantology/Implant Dentistry and the International Congress of Oral Implantologists. He has conducted clinical research in oral surgery and implant dentistry, has published more than 35 articles in peer-review journals and is an editor of two books on bone augmentation in implant dentistry. He speaks nationally and internationally and teaches at the Dugoni School and UCSF School of Dentistry.
Anders Nattestad, PhD, DDS, is a professor, co-chair of Department of Oral and Maxillofacial Surgery, director of the undergraduate Oral and Maxillofacial Surgery program and director of the Implant Surgery program at the Dugoni School of Dentistry. He has published more than 60 peer-reviewed articles and has presented at numerous conferences, both nationally and internationally. He has served as secretary general for the Association for Dental Education in Europe for five years.
Event Type

Sponsoring Department

Tags
Group

Department

Subscribe