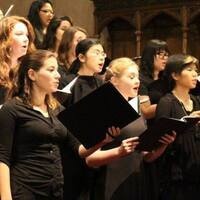 Choral Ensembles Fall Concert
Thursday, October 18, 2018 at 7:30 pm
Cathedral of the Annunciation 425 W. Magnolia St., Stockton
A joined choir concert at the beautiful Cathedral of the Annunciation. The concert will feature Pacific Choral Ensembles directed by Dr. Yejee Choi and San Joaquin Delta College Choirs directed by Dr. Bruce Southard.
Patricia Grimm and Monica Swope - accompanists.
The repertoire will include, among many others, works by Bach, Mozart, Gastoldi, and Sctütz.
Tickets at the door or at go.Pacific.edu/MusicTickets.
Event Type

Sponsoring Department

Audience

Website
Cost

Students free; $5 seniors; $10 general admission

Department

Hashtag

Subscribe