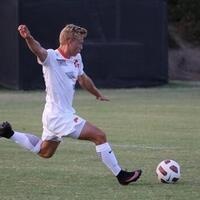 Pacific Men's Soccer vs Westmont College
Sunday, August 13, 2017 at 7:30 pm to 9:30 pm
Knoles Field
Rudkin Way at Larry Heller Drive, Stockton, CA
The 2017 season begins this weekend for men's soccer as the Tigers host Westmont in a preseason opener on Sunday at 7:30 p.m at Knoles Field. The showdown with the Warriors will be the first of two exhibition matches this season for Pacific, with the Tigers wrapping up preseason action against #1 Stanford on Aug. 19th at 7 p.m. on The Farm.
Fans will get their first look at newcomers Ethan Bandre, Charles Brewah, Jonathan Cox, Haden Hoel, and Diego Villapudua, who all will be donning the Orange and Black for the first time. Tristan Blackmon, who was recently named to the MAC Hermann Trophy Watch List, returns to the pitch with fellow reigning All-WCC honorees Curtis Golds mith, Wouter Verstraaten, Camden Riley, Andreas Charalambous and Anthony Orendain.
Head coach Ryan Jorden was a lead assistant coach at Westmont College from 2000 to 2007. Under Jorden's tutelage, the Warriors went 82-39-11 and were consistently ranked in the NAIA Top 25. Jorden is also a graduate of Westmont and played for the Warriors from 1991 to 1994 where he led his team to two National Tournament appearances in addition to 65 wins.
The regular season opens up on Aug. 25 on the road against Sacramento State at 5 p.m. Pacific will then return home on Aug. 27 to host Cal State Bakersfield at 6 p.m. at Knoles field.
Event Type

Sponsoring Department

Website
Department

Subscribe