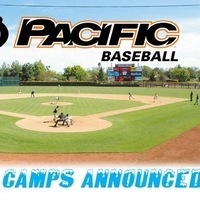 Pacific Baseball Winter Hitting Camps
Tuesday, December 18, 2018 at 6:00 pm to 7:30 pm
Klein Family Field
Klein Family Field, Larry Heller Drive, University of the Pacific, Stockton, CA 95204
This three-week camp is for high school hitters and combines both mental and physical aspects of hitting. Students will follow the same hitting progression and principles that our Tiger hitters go through and will get to use the same technology and machines that Pacific's team uses. The goal is to simplify the process of hitting and educate players so that they can become the best hitters possible. Pacific assistant coaches Chris Rodriguez and Mike Reuvekamp, along with Tiger players, will run the camp.
Dates: Dec. 4, 11 and 18
Time: 6:00-7:30 p.m.
Cost: $99
Location: Klein Family Field batting cages beyond the right-field fence
Players must provide their own equipment
For more information or to sign up for any of the camps, please click the link at right.
For questions, please contact Michael Reuvekamp 209.946.2163 or mreuvekamp@pacific.edu.
Event Type

Sponsoring Department

Audience

Website
Subscribe