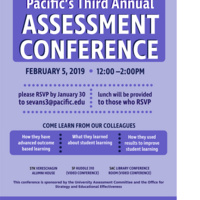 Pacific's 3rd Annual Assessment Conference
Tuesday, February 5 at 12:00 pm to 2:00 pm
Alex and Jeri Vereschagin Alumni House
1022 Dave Brubeck Way, University of the Pacific, Stockton, CA 95204
Faculty, staff, and students are invited to Pacific's 3rd Annual Assessment Conference (Pacific sign-on required).
University faculty and staff will showcase program assessment practices sharing their creativity, innovation and expertise in assessment.
Come learn from our colleagues!
What they learned about student learning?
How they used results to improve student learning?
How they have advanced outcome-based learning?
SAC: Library Conference Room (videoconference)
SF: Huddle 310 (videoconference)
To attend the conference, please RSVP by January 30, 2019
Event Type

Sponsoring Department

Audience
Cost

FREE

Group

Subscribe