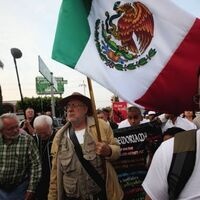 Poet and Peace Activist Javier Sicilia: Mexico's National Emergency and the Role of the United States
Wednesday, April 11, 2012 at 6:00 pm to 7:00 pm
Janet Leigh Theatre
3601 Pacific Ave, Stockton, CA 95211
On April 11, 2012, award-winning Mexican poet and peace activist Javier Sicilia will visit the University of the Pacific to present a public lecture and to meet with students, faculty, staff and community members.
His visit is being jointly sponsored by the School of International Studies, the Inter-American Program, the Ethnic Studies Program, the English Department, Humanities Center and Sustaining Pacific.
Mr. Sicilia founded the Movement for Peace with Justice and Dignity after his son was killed by narcos last spring. The movement calls for an end to militarization of law enforcement and a change in President Calderon's security policies which have led to between 40,000 – 60,000 civilian casualties in Mexico's War on Drugs, converting formerly vibrant communities into ghost towns. Since last year, the movement has mobilized tens of thousands of ordinary Mexicans from all walks of life in an effort to root out high-level corruption and endemic violence from their society, beginning from the grassroots.
Javier Sicilia is one of Latin America's best known contemporary poets and essayists. Among other honors, his work has won the Aguascalientes National Award in Poetry, one of the most prestigious prizes in Latin American literature. He was founder and director of El Telar, coordinator of several writing workshops, editor of Poesía magazine, and is a professor of literature at Universidad La Salle in Cuernavaca.
His work is also published in more popular media such as the Mexico City daily La Jornada and Proceso magazine, and he writes for film and television. However, he famously gave up writing poetry in 2011 after his son, university student Juan Francisco Sicilia Ortega, was murdered along with six other innocent bystanders, allegedly by members of the Sinaloa Cartel. The Movement for Peace with Justice and Dignity began with a series of peaceful marches last spring, in which the families of victims of violence and representatives of civil society from throughout the nation traveled to Mexico City to demand that government officials be held accountable for the decades of corruption which enables drug gangs to operate with impunity, as well as for the overwhelming destruction caused by Mr. Calderon's security policies, which have led to record violence. Accountability is necessary in order to repair the social fabric.
Sustainability means everyone taking responsibility for their part in creating society's problems, as well as for doing their part to solve them. While this message directly addresses the social aspects of sustainability, it is also rooted in economic and environmental aspects. In recognition of his efforts, Javier Sicilia has been named one of Time Magazine's Persons of the Year for 2011.
This public lecture will be held in Janet Leigh Theater on the evening of Wednesday April 11 at 6:00 p.m. The lecture will be preceded by a public reception in the Regent's Room at 5:00 p.m. We hope that both of these events will afford, students, faculty, staff, and community members the opportunity to meet Javier Sicilia and learn more about the inspirational struggle of the Movement for Peace with Justice and Dignity.
Event Type
Cost

Free

Department

Hashtag

Subscribe