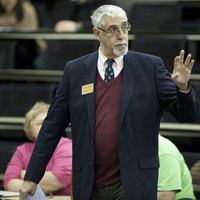 Preserving and Expanding LGBTQ Rights in the Trump Era
Thursday, February 16, 2017 at 5:00 pm
Pacific McGeorge School of Law, Classroom G
3200 Fifth Ave., Sacramento, CA
Preserving and Expanding LGBTQ Rights in the Trump Era
Kate Kendell, executive director for the National Center for Lesbian Rights (NCLR), will join Professor Larry Levine and the McGeorge Lambda Law Students Association for a special Diversity Week conversation on preserving and expanding LGBTQ rights under the current executive administration.
The NCLR is a national legal organization committed to advancing the civil and human rights of lesbian, gay, bisexual, and transgender people and their families through litigation, public policy advocacy, and public education. NCLR's legal, policy, and legislative victories set important precedents that improve the lives of all LGBT people and their families across the country. Some of NCLR's key projects and legal focus areas include: Asylum & Immigration; Elders; Employment; Family & Relationships; Federal Legislation & Policy; State Legislation & Policy; Hate Crimes; Healthcare; Housing; Low Income & Poverty; Prisons; Rural Communities; Sports; Transgender Law; and Youth.
Kendell acts as the primary spokesperson on behalf of NCLR to the media. She has appeared in hundreds of media outlets including the New York Times, Washington Post, BBC, NPR, Fox News, MSNBC, CNN and dozens of online blogs. She is also a visible and vibrant social media voice.

Attendance is FREE.
When: Thursday, February 16, 2017 at 5:00 p.m.
Where: McGeorge School of Law, Classroom G.
Event Type

Sponsoring Department
Department

Subscribe