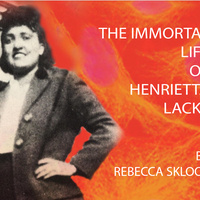 Rebecca Skloot - The Immortal Life of Henrietta Lacks
Tuesday, November 5, 2013 at 7:00 pm to 9:00 pm
Grace Covell Hall
720 Presidents Drive, Stockton, CA 95211
Rebecca Skloot, science writer and best selling author of The Immortal Life of Henrietta Lacks, will be speaking on campus.
Skloot's work has appeared in The New York Times Magazine; O, The Oprah Magazine; Discover; and many other publications. She is also a contributing editor at Popular Science magazine, and has worked as a correspondent for NPR's RadioLab and PBS's Nova ScienceNOW. She and her father, Floyd Skloot, are co-editors of The Best American Science Writing 2011.
The Immortal Life of Henrietta Lacks, her debut book, took more than a decade to research and instantly became a New York Times best seller. It tells the rich, enthralling story of a poor Southern tobacco farmer, Henrietta Lacks, whom scientists know as HeLa.
In 1951, Henrietta developed a strangely aggressive cancer, and doctors at Johns Hopkins Hospital took a tissue sample without her knowledge. She died without knowing that her cells would become immortal—the first to grow and survive indefinitely in culture. The cells became of the most important tools in medicine and are still alive today, though she has been dead for more than sixty years. HeLa cells were vital for developing the polio vaccine; uncovered secrets of cancer, viruses, and the effects of the atom bomb; helped lead to important advances like in vitro fertilization, cloning, and gene mapping; and have been bought and sold by the billions. Yet Henrietta Lacks remained virtually unknown, buried in an unmarked grave.
Join us for for an extraordinary journey and book-signing with Rebecca Skloot.
For more information, contact Corrie Martin in the Women's Resource Center at cmartin1@pacific.edu or call 209.932.2815
For more on Rebecca Skloot, visit http://rebeccaskloot.com/the-immortal-life/
Co-sponsored by the Department of English with support from the Pacific Arts and Lectures Committee
Event Type

Sponsoring Department
Cost

Free admission

Group

Subscribe