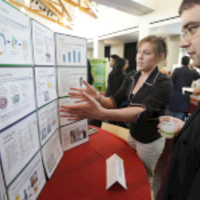 Research Day 2016
Saturday, April 30, 2016 at 9:00 am to 5:00 pm
Don & Karen DeRosa University Center, Ballroom
901 Presidents Dr, Stockton, CA 95211
The annual Research Day and Pacific Undergraduate Creativity Conference (PURCC) combine once again to celebrate faculty, staff and student's research and scholarship on all three campuses.
Undergraduate research oral presentations:
DeRosa University Center, Room 211
Session 1: 8-10 a.m.
Session 2: 10 a.m.-noon
Session 3: 1-3 p.m.
Session 4: 3-5 p.m.
Faculty and student research poster session:
DeRosa University Center Ballroom
Session 1: 10 a.m.-noon
Session 2: 1:30-3:30 p.m.
Awards luncheon - Ballroom
Noon-1:30 p.m.
Eberhardt School of Business Innovation Fair - DeRosa University Center, Rooms 214 and 215
1:30-3:30 p.m.
Faculty, staff and students are encouraged to present their research to the University community.
For information on Research Day, visit www.Pacific.edu/ResearchDay, or contact Christine Fluter-Brown (cfluter@pacific.edu). For more on Pacific Undergraduate Research and Creativity Conference, including additional events, visit the PURCC website or contact Dr. Lydia Fox (lkfox@pacific.edu).
Event Type

Sponsoring Department
Subscribe