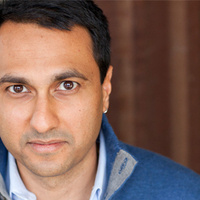 "Leadership in a Diverse World" with guest speaker Eboo Patel
Thursday, March 3, 2016 at 7:00 pm to 9:00 pm
Don & Karen DeRosa University Center, Ballroom
901 Presidents Dr, Stockton, CA 95211
Dr. Eboo Patel, founder and president of Interfaith Youth Core, will be visiting University of the Pacific for a campus-wide and local community landmark event and will be exploring how diverse groups can live and work together in his public lecture at 7 p.m. There will be a reception and book signing following the lecture.
Don't miss this community event that will provide training and tools to help encourage, build and equip the community for advancing interfaith inclusion and shared cooperation.
Patel is a member of President Barack Obama's inaugural Advisory Council on Faith-Based Neighborhood Partnerships. He is the author of several bestselling books including, Sacred Ground: Pluralism, Prejudice, and the Promise of America. Dr. Patel is one of the leading advocates for interfaith and inclusion work, encouraging and equipping students, faculty, and university administration on how religion can be a bridge of cooperation instead of a barrier.
This event is made possible through the generous support of the following partners: The Pacific Arts and Lectures Committee, Religious and Spiritual Life, The Colliver Fund, Ethnic Studies, the Multicultural Center, the Provost's Office, Residential Life & Housing, the Interfaith Council, the United Cultural Council, and the Newman Catholic Community.
Event Type

Sponsoring Department
Group

Subscribe