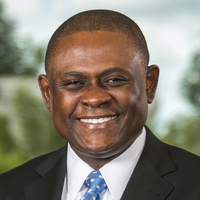 Sanderson Lecture featuring Dr. Bennet Omalu - ticketed event
Wednesday, March 1, 2017 at 5:00 pm to 7:00 pm
Don & Karen DeRosa University Center, Ballroom
901 Presidents Dr, Stockton, CA 95211
The Department of Physical Therapy presents the Sanderson Lecture
at University of the Pacific featuring Dr. Bennet Omalu speaking on the topic "Don't Break the Rules, Change the Game: How Bennet Omalu single-handedly changed American football, Professional sports, and how the world perceives traumatic brain injuries"
Dr. Bennet Omalu MD is a physician and forensic pathologist known for the investigation and identification of Chronic Traumatic Encephalopathy (CTE), which he first discovered in the course of an autopsy he performed on former NFL football player "Iron Mike" Webster in 2002. The story of his youth, professional preparation, and discovery of CTE was depicted in the 2014 film "Concussion" in which he was portrayed by actor, Will Smith. Dr. Omalu has served as chief medical examiner of San Joaquin County and is a consulting professor at UC Davis Department of Medical Pathology.
Tickets
This is a ticketed event. If you are interested in attending this event, please stop by the DeRosa University Center front desk to pick up a ticket. The event capacity is limited guests and will be available on a first come, first served basis.
Sponsored by
Sanderson Fund of the St. Joseph's Foundation, Pacific Arts and Lectures Committee, School of International Studies, College of the Pacific, Pacific Athletics, Thomas J. Long School of Pharmacy and Health Sciences
5:00 p.m. | Meet & Greet and Book Signing
Books will not be available for purchase. Please bring your own copy. Limited to the first 50 guests.

5:30 - 7 p.m. | Program
This is a ticketed event. Tickets are available at the DeRosa University Center.
Note: The film "Concussion," starring Will Smith as Dr. Omalu will be shown in the Janet Leigh Theatre on Tuesday, Feb. 28. Read more>>
For more information, please contact Dua Her at dher@pacific.edu or 209.946.2989.
Event Type

Sponsoring Department
Department

Subscribe