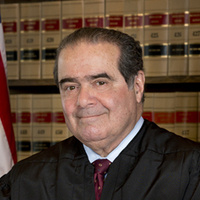 Justice Scalia: Rhetoric and the Rule of Law
Friday, May 5, 2017 at 9:00 am to 5:00 pm
Pacific McGeorge School of Law, Northwest Hall, Seminar Rooms 4/5
3200 Fifth Ave., Sacramento, CA
Justice Scalia: Rhetoric and the Rule of Law
Edited by Brian Slocum and Francis J. Mootz III
A Proposed Book for the University of Chicago Press
Anticipated Publication Date: May 2018
REGISTER HERE for this symposium and workshop
Justice Antonin Scalia authored numerous opinions during his thirty years as Associate Justice of the Supreme Court. Justice Scalia was well known for his vigorous advocacy in favor of an "originalist" or "new textualist" approach to legal interpretation. He authored a number of stinging dissents challenging the Court's jurisprudential methodology, and finally achieved some measure of victory in his 2008 majority opinion in District of Columbia v. Heller, in which a bare majority of the Court nominally adopted an originalist approach to interpreting the Second Amendment. There will certainly be many efforts to delineate and assess Justice Scalia's jurisprudence with regard to its legitimacy and effects on American law.
This project takes a very different tack. The contributors will discuss the rhetorical strategies in Justice Scalia's opinions rather than the logic of his legal arguments. Justice Scalia has been criticized for his harsh and biting style that often is directed at people, including his colleagues. Others have lauded him for his uncompromising principles, erudite references and clever bon mots. For this project we use the term "rhetoric" in its full classical sense, not simply as a reference to style or ornamentation. As defined by Aristotle, rhetoric is the capacity to see the available arguments in any given situation. The guiding theme of this book is that Justice Scalia enacts his vision of the Rule of Law through his rhetorical framing. The medium is the message, and the form is the substance.
To find out more about our panelists, click here!