Second Annual Christmas Faraday Lecture
Saturday, December 10, 2011 at 6:30pm to 8:00pm
Alex G. Spanos Center 1178 Larry Heller Drive, Stockton, CA 95211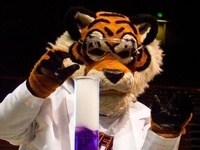 Honoring a tradition that was started in the 1820's at the Royal Institution, two Pacific chemistry professors dressed as 19th century chemists will carry out experiments that explode, change colors and delight an audience of all ages. The event is free and open to the public, but admission is limited. Complimentary tickets are available at the Pacific Box Office.
Share

Subscribe

Event Type
Department
Patrick Giblin left a positive review
12/10/2011
This is always a fun event for kids.
George Do left a positive review
12/10/2011
Loved the Iodide clock color change experiment. The explosions and the frozen rubber balls were also fun. All in all, a great night spent and I would go to it again!
Frozen Tiger

Victorian Flame Thrower

Powercat magic

Think ORANGE!

Liquid nitrogen, frozen roses, and CHILDREN

Exploding can

Fire Tiger