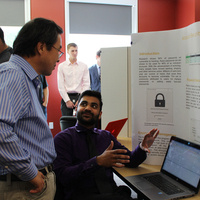 Senior Project Day
Saturday, May 5, 2018 at 2:30 pm to 4:30 pm
School of Engineering and Computer Science, Various locations
Seniors from the School of Engineering and Computer Science will present their research and design projects to the community at various locations in and around the SOECS complex.

The demonstrations run from 2:30-4 p.m., with the first place project announcements at 4 p.m. by Anderson Lawn.
This event is part of the Pacific Undergraduate Research and Creativity Conference. View more deatils on the conference program.

The event is open to the public.
Event Type

Sponsoring Department

Audience

Tags
Group

Department

Hashtag

Subscribe