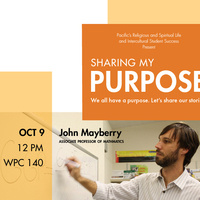 Sharing My Purpose: Keynote Speaker John Mayberry
Tuesday, October 9, 2018 at 12:00 pm
Wendell Phillips Center (WPC), Room 140
1000-1070 W Stadium Dr, University of the Pacific, Stockton, CA 95204
Join us for the second "Sharing My Purpose" event with guest speaker Professor John Mayberry, Associate Professor of mathematics.

Every second Tuesday of the month at noon in WPC 140, a Pacifican will share how their passions, various identities and life events helped them discover their purpose. Join us for this opportunity of inspiration and self-discovery, and learn more about Pacific students, staff, faculty and alumni.

RSVP encouraged but not required.
If you need reasonable accommodations to participate in this event, you are asked to email religiouslife@pacific.edu or call 209.946.2538 at least three business days in advance.
Event Type

Sponsoring Department

Audience
Cost

no cost

Department

Hashtag

Subscribe