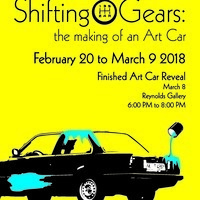 Shifting Gears: The Making of an Art Car
Friday, March 9, 2018 at 9:00 am to 4:30 pm
Jeannette Powell Art Center, Reynolds Gallery
37.975281, -121.312861
The Reynolds Gallery is pleased to announce Shifting Gears: The Making of an Art Car, a process exhibition which opened Tuesday, Feb. 20, and will be on view until March 9. Enjoy watching this selected group of Pacific student artists as they paint and transform the Art Car, a 1982 BMW 320i.
Don't miss the revealing of the finished Art Car, free and open to the public, will be held on March 8 from 6–8 p.m.
This exhibition will feature a series of painted car parts by University of the Pacific students.
The artists selected to paint the car are: Mia Arostigui, Olubori Babaoye, Crystal Baltazar,Kyle Sabbatino, Danielle Thomasson, Leila Valencia
This project is the brainchild of Pacific alumnus Dick McClure '78. A lifelong obsession with speed and style has led to a substantial collection of vintage sports cars. McClure organizes the annual Fall Colors Moto Tour whose members gathered at Pacific last October to hand over the keys to a 1982 BMW 320i for students to transform.
The members support for this project enabled interested students to visit the local pick-n-pull and select car body parts to try out their painting skills. Developing a concept for their art car tested their collaborative and technical skills as well. Art cars were first introduced in 1975 by the French race car driver and auctioneer Hervé Poulain. He began this era of car canvases when he commissioned American artist and friend Alexander Calder to paint and transform the first BMW Art Car, presenting a recognizable canvas for complex ideas.
In preparation for the the exhibition Mike Lamm, automotive journalist, author, historian and Phil Toy, professional automotive photographer visited campus to meet students and provide context for the evolution of car design and aesthetics. McClure shared examples of art cars from Janis Joplin, to Alexander Calder, Barbara Kruger, and Andy Warhol. Local muralist Carlos Lopez met with students providing invaluable technical advice about working on a large scale with industrial material.
Support for the exhibition is provided by the Department of Art & Graphic Design and the Pacific Alumni Association.
For more information contact: Department of Art & Graphic Design 209.946.7445
Event Type

Sponsoring Department
Cost

FREE

Department

Hashtag

Subscribe