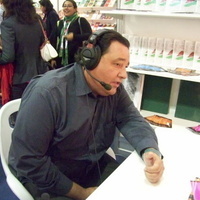 "Singing of Crime and Violence: A History of Mexican Border Balladry"
Thursday, September 28, 2017 at 6:00 pm to 7:30 pm
Classroom Building, 170
981 Kensington Way, Stockton, CA
Juan Carlos Ramírez Pimienta, a professor in the Department of Spanish and Portuguese at San Diego State University-Imperial Valley, will speak on his current research focusing on Mexican and Chicano popular culture, especially Popular Poetics and Border cultural and literary studies.
This event is part of University of the Pacific's Latino Heritage Month celebration.
About Juan Carlos Ramirez Pimienta
Ramírez Pimienta is the author of the books Cantar a los narcos: voces y versos del narcocorrido (Editorial Planeta, 2011) and De El Periquillo al pericazo: Ensayos sobre literatura y cultura mexicana (Universidad Autónoma de Ciudad Juárez, 2006). He has coedited with Salvador Fernández the book El norte y su frontera en la narrativa policiaca mexicana (Plaza y Valdés / Occidental College, 2005), and with María Socorro Tabuenca Córdoba Camelia la texana y otras mujeres de la narcocultura (Universidad Autónoma de Sinaloa, 2016).
In 2017, he has been featured as keynote speaker at the Third International Norteño Music conference in Yucatan, the First International Corrido Norteño conference in Nuevo Leon, Mexico, and the fourth International Conference on Violence in Sinaloa, Mexico. His research and thoughts on topics related to narcoculture are often featured in national and international media outlets such as El Universal, Milenio, The New York Times, Le Monde, and The BBC.
Event Type

Sponsoring Department
Cost

Free and open to the public

Department

Subscribe