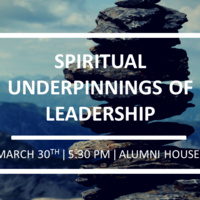 Spiritual Underpinnings of Leadership
Thursday, March 30, 2017 at 5:30 pm to 6:30 pm
Alex and Jeri Vereschagin Alumni House
1022 Dave Brubeck Way, University of the Pacific, Stockton, CA 95204
Benerd School of Education and Religious and Spiritual Life present: A Workshop with Regent Rev. Kathleen McShane, J.D.
The Greek philosopher Archimedes said, "Give me a lever and a place to stand and I will move the world." Archimedes was a physicist of sorts; he was talking about the physical world. But the principle he discovered is also a metaphor for leadership.

Good leadership—leadership that aligns and inspires people around a common set of goals—demands authenticity, integrity, resilience. These aren't skills; they're character traits. They come from deep inside of leaders—their life-shaping world-view. Their place to stand.

In this one-hour workshop we will begin to explore the principles and practices that inspire and sustain compassionate, authentic leadership.
Event Type

Sponsoring Department

Website
Department

Subscribe