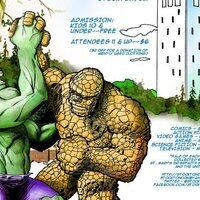 Stockton Con
Sunday, August 5, 2012 at 10:00 am to 5:00 pm
Alex G. Spanos Center
1178 Larry Heller Drive, Stockton, CA 95211
Stockton Con is a comic book convention that will be coming to the Spanos Center on the Stockton campus of University of the Pacific.
WHAT IS STOCKTON-CON?
The goal of Stockton-Con is to raise awareness of outstanding artists in the San Joaquin Valley area – and to give attendees the chance to experience Popular Culture (Comics, Card Games, Video Games, Cards, Anime, Manga, Science Fiction, Toys, Television and Movies). It is also Stockton-Con's intention to raise awareness and funds in conjunction with the United Way and St. Mary's Interfaith Community Services.
WHEN AND WHERE IS STOCKTON-CON?
Stockton-Con will take place on Sunday, August 5, 2012 at the Alex G. Spanos Center on the campus of University of the Pacific in Stockton, California. The hours of Stockton-Con are 10:00 a.m.-5:00 p.m. If you are an artist or exhibitor at Stockton-Con, set up will being at 7:00 a.m.
WHERE CAN I BUY TICKETS TO STOCKTON-CON?
Purchase tickets online or at various locations in town. Find details at Stocktoncon.com/tickets. Kids 10 and under will be admitted free with a paying adult. Tickets will be sold at the event for $6 for those 11 and up. With the donation of gently used clothing item, you will get $2 off your admission cost.
I'M AN ARTIST, HOW MAY I DISPLAY MY TALENTS AT STOCKTON-CON?
Tables at Artist Alley are $25. You may also enter the Stockton-Con Art Contest, with details for the contest coming very soon.
MAY I DRESS AS MY FAVORITE POP CULTURE ICON?
Absolutely, we would love to see you dressed up as your favorite character. Please understand that Stockton-Con is a family event, so please keep that in mind when putting together your costume.
I HAVE A QUESTION YOU DIDN'T ANSWER HERE, HOW MAY I CONTACT YOU?
Send questions to info@stocktoncon.com.
Event Type

Sponsoring Department

Tags

Website
Cost

$6, children 10 and younger are free

Department

Hashtag

Subscribe