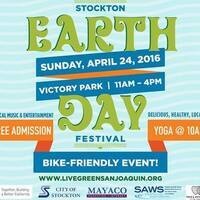 Stockton Earth Day
Sunday, April 23, 2017 at 11:00 am to 4:00 pm
Victory Park
Enjoy this beloved Stockton tradition! This year's theme is "Water is Life."
The Festival will have an array of informative, interactive booths, demos, displays and exhibits. Local area schools will be teaching how to better take care of our Earth with a variety of hands-on activities, and environmental organizations will provide education about the important issues and how we can make a difference. Community agencies will help us live a healthier, more positive life, and green businesses will assist attendees in making changes to their home and workplace. Over 80 vendors will border the oak trees and cross the grass field at Victory Park in Stockton. Come join us for yoga in the park, local music and entertainment, delicious and healthy food, and fun learning activities. It's a fun day for kids and families, and admission is free! For more info, see www.livegreensanjoaquin.org, or email stocktonearthday@gmail.com.
Victory Park address: 1001 N Pershing Ave, Stockton, CA 95203
University of the Pacific includes this event as part of its Sustainability Month celebration.
Event Type

Website
Cost

Free

Subscribe