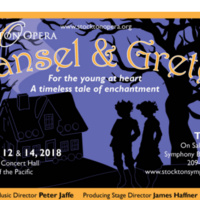 Stockton Opera Association presents "Hansel & Gretel"
Sunday, January 14 at 2:00 pm to 4:00 pm
Faye Spanos Concert Hall
3511 Pacific Ave, Stockton, CA 95204
Based on the fairy tale published by the Brothers Grimm, Humperdink's opera Hansel and Gretel, never fails to delight audiences young and old. The fully staged performances on January 12 and 14 will be sung in English. This timeless tale of enchantment is rich with the melodies and warmth of the Romantic tradition – the story comes to life with charm and a smile.
James Haffner, producing stage director; Peter Jaffe, music director. Joining the cast are Conservatory alumni Donovan Ott-Bales and Ricardo Campero.
Original German text by Adelheid Wette, English translation by Constance Bache; revised by Hamilton Benz.
Tickets on salethrough Stockton Symphony Box Office 209.951.0196 www.stocktonsymphony.org