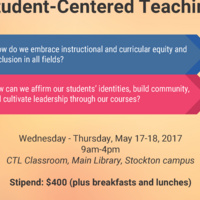 Student-Centered Teaching Workshop
Thursday, May 18, 2017 at 9:00 am to 4:00 pm
Center for Teaching and Learning
William Knox Holt Memorial Library, 2nd Floor, Room 230
Thank you for your interest in this workshop. Registration is now full. Please contact Chris Goff (below) to be added to the waiting list.
How do we embrace instructional and curricular equity and inclusion in all fields? How can we affirm our students' identities, build community, and cultivate leadership through our courses?
Facilitated by faculty peers and Center for Teaching & Learning leadership, this two-day workshop for faculty will explore ways for instructors to create a more just and inclusive classroom environment, in both large and small classes and across disciplines, from the Humanities to STEM fields. Instructors will explore strategies to ensure that all students can engage in the curriculum with their full selves.
Stipend: $400 (plus breakfasts and lunches).
Questions? Please contact Chris Goff, Assistant Provost for Diversity
Sponsoring Department
Department

Subscribe