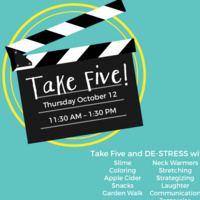 Tame the Tiger Take Five!
Thursday, October 12, 2017 at 11:30 am to 1:30 pm
Stockton Campus 3601 Pacific Avenue, Stockton, CA
Take five and participate in one (or more!) of the many activities located around campus to help you de-stress.
Take 5 and...
Laugh at the McCaffrey Center
Communicate at the McCaffrey Center
Stretch at the Baun Fitness Walkway
Eat a FAST Break in front of Career Resource Center
Play with Slime at the DeRosa Center Entrance
Get Warm at the DeRosa Center Entrance
Jazzercise on the DeRosa Center Lawn
Strategize in front of the Library
Touch/Smell/Taste at the Robb Garden
Talk in the DeRosa Center Lair
Color at the DeRosa Center Entrance
Also look for activities outside of WPC and the clock tower!
Event Type

Sponsoring Department
Subscribe