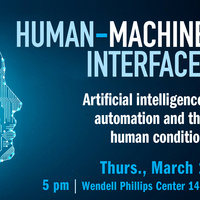 X-Boundaries: The Human-Machine Interface
Thursday, March 1, 2018 at 5:00 pm to 6:30 pm
Wendell Phillips Center (WPC), 140
1000-1070 W Stadium Dr, University of the Pacific, Stockton, CA 95204
This year's X-Boundaries event is a timely panel discussion on artificial intelligence, automation and the human condition. Join this interdisciplinary discussion about our relationship with robots and artificial intelligence.
Featured panelists:
James Hetrick, Data Science
Ray Rennard, Philosophy
Jeffrey Michael, Center for Policy and Research
Elizabeth Basha, Engineering and Computer Science
The panel discussion will also be available via Facebook Live at facebook.com/universityofthepacific.
X-Boundaries is an annual event in which representatives from various disciplines throughout the university community discuss a topic where their interests intersect.
Event Type

Sponsoring Department

Tags
Cost

Free

Department

Hashtag

Subscribe