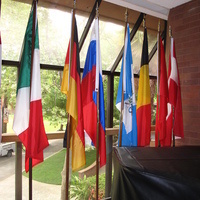 The Order of the Coif Congratulatory Luncheon
Friday, May 18, 2018 at 12:00 pm to 1:30 pm
Pacific McGeorge School of Law, Combo Classroom S4-5
3200 Fifth Ave., Sacramento, CA
36th Annual McGeorge Congratulatory Luncheon
Friday, May 18, 2018
Noon - 1:30 p.m.
Northwest Hall - S4/5

Kindly RSVP by Wednesday, May 2, 2018
to McGeorge Events at 916.739.7138 or mcgeorgeevents@pacific.edu.
The Order of the Coif is an honorary scholastic society—the purpose of which is to encourage excellence in legal education by fostering a spirit of careful study, recognizing those who as law students attained a high grade of scholarship, and honoring those who as lawyers, judges and teachers attained high distinction for their scholarly or professional accomplishments.
The English Order of the Coif was one of the most ancient and honored institutions of the common law. Originating nearly 1000 years ago, the Order was an association of lawyers, from whose members were selected all judges of the royal courts, and who, for centuries, had the sole right to appear as barristers in the English Court of Common Pleas. The Order took its name from the cap that all members of the Order were required to wear. By the ancient privilege of Sergeants of the Coif, this cap was not to be removed even in the presence of royalty. When wigs came into fashion, the Coif evolved into a circular piece of cloth fastened to the top of the wig. And at commencement tomorrow, graduates inducted into the order today will have a similar cloth circle atop their mortarboards.
There are only 82 law schools in the country that are members of the Order of the Coif. And membership in the Order is restricted to the top 10% of the graduating class at each of those schools. So across the country this month from Yale Law School in the Northeast, to Emory in the South, to the University of Chicago in the Midwest, and at Stanford, Berkeley, Davis and McGeorge here in Northern California, a very selective group of students—about 4% of law school graduates nationwide—have earned this distinction.
Event Type

Sponsoring Department

Audience
Hashtag

Subscribe