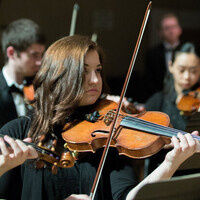 University Symphony Orchestra
Saturday, November 10, 2018 at 7:30 pm
Faye Spanos Concert Hall
3511 Pacific Ave, Stockton, CA 95204
Join us for an evening of classical music performed by Pacific Symphony Orchestra with Nicolas Waldvogel, conductor, and Daniel Ebbers, tenor.
Repertoire of the evening will include Mozart: Symphony No. 39 in Eb major; Wagner and Giordano: Arias; Hindemith – Mathis der Maler.
Tickets can be purchased at the door or at go.Pacific.edu/MusicTickets.
Event Type

Sponsoring Department

Audience

Website
Cost

Students free; $5 seniors; $10 general admission

Department

Hashtag

Subscribe