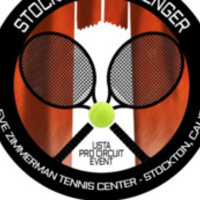 USTA Stockton Challenger Pro Circuit Tennis Tournament
Sunday, July 23, 2017
For the third year in a row, University of the Pacific will host the United States Tennis Association (USTA) women's $60,000 Stockton Challenger. The event will take place at the newly constructed Eve Zimmerman Tennis Center from July 16-23.
The Stockton Challenger was selected to be part of the US Open Wild Card Challenge, which utilizes hard-court pro tournaments to award wild cards into the US Open for American players.
The Stockton Challenger is part of the 43 stop USTA Pro Circuit and will feature 32 singles competitors along with 16 doubles teams. The Pro Circuit is the route to large scale events such as the US Open and tour-level competition for both up-and-coming players and established pros. Tournaments of this caliber often feature athletes ranked in the top 500 in the world and have assisted in kick starting the careers of Andy Murray, John Isner and Maria Sharapova. Both the University and the city of Stockton are proud to host this top tier event and are hoping their sophomore year is one to remember for the fans and the players.
Tickets are on sale now here. Fans and spectators can also "Like" the "USTA Stockton Challenger" on Facebook and follow all the action on Twitter @STKChallenger. If you are interested in becoming a sponsor for the event, please contact Jeremy Neisser by emailing him at jneisser@pacific.edu.
All USTA Pro Circuit tournaments will be streamed live on www.procircuit.usta.com. This is the sixth consecutive year the USTA has used a wild card challenge format to award US Open wild cards for American players.
Eve Zimmerman Tennis Center
The tennis center, which opened on March 24, 2016, was made possible by a $1.5 million gift from the University of the Pacific graduate and previously world-ranked professional player, Eve Zimmerman. The complex offers 12 courts, covered player benches with a new electronic scoreboard and a 5,500-square-foot clubhouse on the way. The Center offers an impeccable setting to host the 2016 Women's USTA Pro Circuit event.
About the USTA Pro Circuit
The USTA Pro Circuit is world class tennis administered on the local level and played on local courts as part of the fabric of communities nationwide. The USTA launched its Pro Circuit in 1979 to provide players with the opportunity to gain professional ranking points and has since grown into the largest developmental circuits in the world. There are nearly 100 tournaments throughout the country and prize money ranging from $10,000 to $100,000. Maria Sharapova, Andy Roddick, James Blake and Andy Murray are among today's top players who began their professional careers on the USTA Pro Circuit.
Event Type

Sponsoring Department

Tags

Website
Cost

$7-$25 for individual games, separate pricing for single-day and tournament passes, group discounts available.

Subscribe