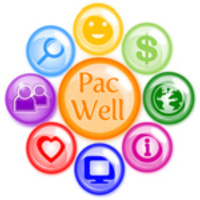 Wellness Week Kick Off!
Monday, September 16, 2013 at 11:30 am to 1:30 pm
Don & Karen DeRosa University Center, Outside, west side
901 Presidents Dr, Stockton, CA 95211
Start off your school year emotionally strong and healthy. Join us to kick-off our wellness week activities and find out more about staying emotionally healthy.
T-shirt giveaway, prizes & more!
And don't miss these great special events during Wellness Week:
9/16 "Behind Happy Faces with Ross Szabo"
7 pm: DeRosa University Center Ballroom
Keynote speaker for wellness week, Szabo will speak about dealing with difficult emotions
9/17 "Check Up from the Neck Up"
Noon to 2pm: DeRosa University Center Foyer
Free anxiety and depression screenings
9/17 and 9/18 "Team Pacific Recruitment"
6-7 pm: DeRosa University Center 215
Find out about oncampus employment opportunities.
9/18 Wellness Wing Showcase
4 - 6 pm: Baun Student Fitness Center
Relieve stress in a yin-style yoga class with aromatherapy, featuring health snacks and farmers' market
9/18 and 9/19 "Tame the Tiger"
9/18: 11:30 am to 1:30 pm - Pharmacy Lawn
9/19: 11:30 am to 1:30 pm - DeRosa University Center Lawn
Massage, aromatherapy, CAPS, recreation and more with NutriCat
9/19 Guided Meditative Walk: Getting Back on Track
3 pm: Meet at Reflecting Pool in front of DeRosa Center
Short meditative walk led by Chaplain Joel Lohr
9/19 Student Activities Fair
4 - 6 pm: DeRosa Center Lawn
Find out about student clubs and organizations
9/19 Career Resource Center Open House
4 - 7 pm: Career Resource Center, McCaffrey
Find out about services and resources available through CRC
9/20 Feel Good Friday
Noon - 2 pm: DeRosa Center Lobby
9/20 Backyard Games
3 - 6 pm: DeRosa University Center Lawn
Come out and just have fun
9/21 Tiger Prep
1 - 4 pm: Grace Covell Hall
Student Academic Support Services will provide mini-workshops to help you be successful at Pacific
Event Type

Sponsoring Department

Website
Department

Subscribe