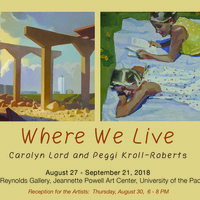 Where We Live: Paintings by Carolyn Lord & Peggi Kroll-Roberts
Friday, September 21, 2018 at 9:00 am to 4:30 pm
Jeannette Powell Art Center, Reynolds Gallery
37.975281, -121.312861
The Reynolds Gallery is pleased to announce the opening the first exhibition of the 2018-19 season, Where We Live: The Paintings of Carolyn Lord and Peggi Kroll-Roberts, on Monday, Aug. 27.
Both artists will be in the Reynolds Gallery to discuss their inspirations, work and career insights during the opening reception 6 - 8 p.m., Thursday, Aug. 30. The reception is free and open to the public.
Award-winning, master artists, Carolyn Lord and Peggi Kroll-Roberts, are California painters, as such their work embodies the hot sun, hardy flora, and visual drama of the place where they paint and live. It also embodies something of the spirit of the state; its scrappiness and constant reinvention. Distilled through the filters of two unique styles - gardens, landscapes, houses, and figures are the subjects of the paintings on exhibit. With glorious color and exquisite design, these contemporary painters bring scenes from everyday life to their canvases and open our eyes to its beauty.
Exhibition dates: Aug. 27 – Sept. 21.
Opening Reception: 6 – 8 p.m., Thursday, Aug. 30
Gallery Hours: Monday – Friday, 9 a.m. – 4:30 p.m.
The Reynolds Gallery is located in the Jeannette Powell Art Center on the campus of the University of the Pacific at 1071 W. Mendocino Ave in Stockton. Follow us on Facebook or visit us at http://go.pacific.edu/ReynoldsGallery.
For questions or information, contact the Department of Art & Graphic Design 209.946.2241, reynoldsgallery@pacific.edu
Event Type

Sponsoring Department

Audience

Website
Cost

Free and open to the public

Group

Department

Subscribe