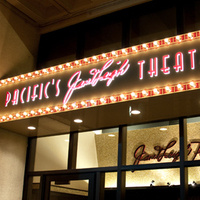 Janet Leigh Theatre
The Janet Leigh Theatre is an on-campus movie theatre featuring weekly films during the school year as well as special talks and screenings. It is named for the late Pacific alumna and award-winning actress Janet Leigh '47, who also bequeated much of her movie memorabilia to the university. Many of these items are on display in the theatre. It is the only movie theater in San Joaquin County that shows independent films. Pacific students receive free admission to films, while faculty, staff and seniors receive a discount. It is located in the McCaffrey Center complex in the central part of campus and is open to the public.
3601 Pacific Ave, Stockton, CA 95211
Hours

Generally Thurs-Sun 8 p.m.

Website
Recent Events


Rynne Cowham left a positive review
9/27/2017
It took me about 15-30 minutes in to "warm up" to this film, but once I did, I thoroughly enjoyed it. The theater is far less crowded on Thursday evenings than it is on the Friday night shows. I would appreciate it, however, if they would stop playing aggressive ghetto/thug music replete with the "f word" prior to the film. It's really sad, and I think an institution of higher learning should have higher standards. Obviously some students will choose to listen to that garbage but it doesn't mean we need to give it air time "officially" at our events. Other than that, love our movie nights!
It was a fun film, a little trite and trope-ish in places, but the final battle scenes were epic enough. I'm a bit over the "evil German" stereotype but at least they didn't pull the Hitler card out. All in all, enjoyable, but glad I got in for free as it's not something I would have wanted to spend $12 on a ticket to see downtown.
Teri McKnight left a positive review
8/12/2017
I brought 2 of my friends, we all had a wonderful time. We are so sorry this is the last of the series for this season. We will definitely be coming to all of them next year. Thank you for the pre-movie comments, so interesting. And we loved the cartoon and small clips. So enjoyable and brought back memories for sure!
I wanted to enjoy this, I really did, but the theatre was freezing to the point my bones hurt and I feared I'd end up sick. They must have had the A/C set to 60 degrees Farenheit!!! The "emcee" spoiled the film for those who had never seen it by giving away key parts in a lengthy description of how it differed from the play, and then kept going on at length about the private lives and dalliances of the actors. I don't care about all that "celebrity gossip" nonsense over those still alive let alone those long dead -- and I find it inappropriate to detail others' lives at length by their scandals and flaws if they are not there to defend themselves.
So I was uncomfortable mentally as well as physically. Fortunately the film was charming, as was the little patriotic porky pig cartoon that preceded it, and I enjoyed seeing it. The emcee seems a nice enough fellow, he just needs to shorten his intro. And they need to stop thinking anything over 80 outside calls for refrigerating the theatre.
gilbert schedler left a positive review
3/22/2017
excellent film--- inspiring re environment and the need for joy to live and love well filmed and QA with
Wendy Lee was also a joy thanks to Colliver Lectures and Prof. Tanya Storch
Michael Ladisch left a positive review
9/21/2016
The film was amazing! Thanks to the guy who organized the screening! I wish JLT would show more such unusual movies.
Kathy Fritz left a positive review
7/24/2016
Very informative. All presenters did a great job and were very clear. The handouts will really help for reference at a future date!
Mary Lou Tyler left a positive review
11/9/2015
The event was great! Marlon is amazing. I am looking forward to reading his book.
Jon Draper posted a photo
9/22/2015