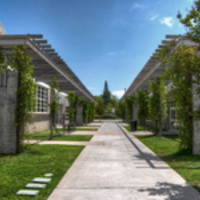 Jeannette Powell Art Center
The Jeannette Powell Art Center houses classrooms and art studios to support programs in art and graphic design.
37.975281, -121.312861
Phone

209.946.2241

Website
The Pacific Student Art Club presents, 4 x 4 exhibition and sale, opening Thursday, November 15, 2018, and on view through Friday, December 7. Join us in the...
Recent Events
Chris Goff left a positive review
11/1/2017
I loved this event. It was great to see how mathematics and art can relate and inform each other.
Steve Harvath left a positive review
10/19/2017
Great behind the scenes tour. Got to see wonderful things and learn about plans for exhibits.